Wild Mushroom and Orzo Risotto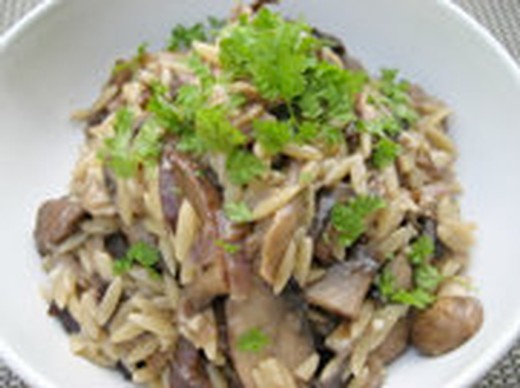 Recipe Date:
April 29, 2013
Measurements:
Imperial (US)
Ingredients
1 oz dried porcini mushrooms
1 1/2 cups hot water
3 tbsps olive oil
1 medium onion
2 cups orzo (about 13 ounces)
4 cups low-salt chicken broth
1/2 cup freshly grated parmesan cheese
parsley for garnish
Directions
Place mushrooms in a small bowl. Add 1 ½ cup boiling water and let stand until mushrooms soften, about 40 minutes. Drain mushrooms well, reserving soaking liquid. Chop mushrooms.
Heat olive oil in heavy medium saucepan over medium heat. Add onion and sauté until tender, about 8 minutes. Add orzo and stir until coated with onion mixture. Stir in chopped mushrooms.
Meanwhile combine broth and reserved mushroom soaking liquid in another medium saucepan, leaving any mushroom sediment behind. Bring broth mixture to simmer, reduce heat to low and keep hot.
Add 1 cup of broth mixture to orzo. Simmer over medium-low heat until orzo absorbs broth mixture, stirring occasionally. Continue adding broth mixture 1 cup at a time, simmering until each addition is absorbed before adding next, simmering occasionally, until orzo is just tender and risotto is creamy, about 30 minutes. Stir in parmesan. Season to taste with salt and pepper. Transfer to a bowl; garnish with parsley.