Stir-Fried Five-Spice Pork with Lettuce Cups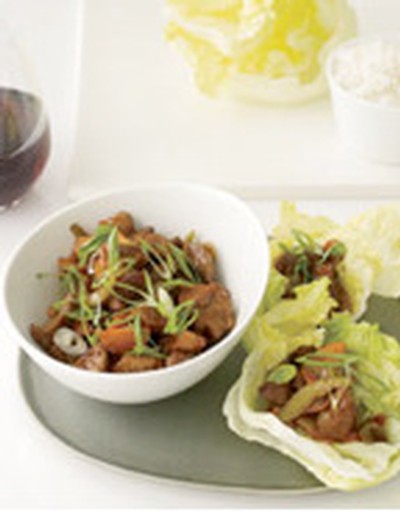 Recipe Date:
January 12, 2014
Measurements:
Imperial (US)
Directions
In a large skillet, heat the peanut oil until shimmering. Add the diced pork shoulder and stir-fry over high heat until browned and just cooked through, about 5 minutes. Using a slotted spoon, transfer the pork to a plate.
Add the onion, carrot and celery to the skillet and cook over moderate heat until tender, about 4 minutes, Add the five-spice powder and cook until fragrant, about 30 seconds. Stir in the water chestnuts, stock and hoisin sauce, scraping up the brown bits from the bottom of the pan. Return the pork to the skillet and stir-fry until heated through and coated with the sauce, about 1 minute. Remove from the heat and stir in the basil, scallions and sesame oil; season with salt and pepper. Spoon the pork into bowls and serve with lettuce leaves for wrapping.
Serve with Steamed brown or white rice.