Salmon with Mushroom Sauce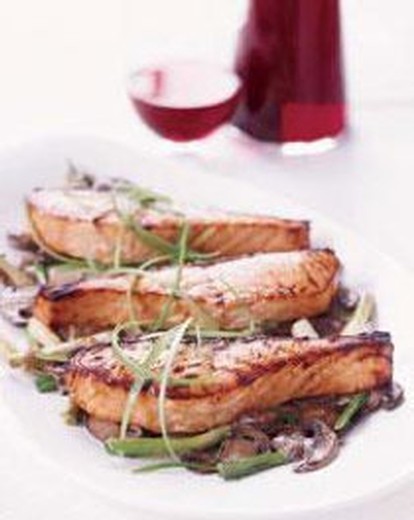 Recipe Date:
February 5, 2010
Measurements:
Imperial (US)
Ingredients
6 ozs skinless, center-cut salmon fillets x4
1/4 cup fresh orange juice
4 1/2 tbsps unsalted butter
1 lb sliced cremini or oyster mushrooms
freshly ground pepper
8 medium scallions or ramps, cut into 2-inch lengths
1/2 cup dry white wine
1/2 cup vegetable stock, fish stock or low-sodium broth
1/4 cup heavy cream
Directions
Preheat the broiler. Lay the salmon fillets in a baking dish and pour the orange juice over them. Season with salt; let stand for 5 minutes. Turn the fillets; let stand for 5 minutes longer.
Meanwhile, in a large skillet, melt 4 tablespoons of the butter. Add the garlic and cook over moderately high heat until fragrant. Add the mushrooms; season with salt and pepper. Cover and cook over moderately high heat, until the mushrooms have released their liquid, 5 minutes. Stir in the scallions and cook uncovered over high heat, stirring occasionally, until browned, 5 minutes. Add the wine; boil for 1 minute. Add the stock and cream and simmer for 3 minutes. Season with salt and pepper.
While the sauce simmers, transfer the salmon to a rimmed baking sheet, skinned side down. Top each fillet with 1/2 teaspoon of the remaining butter. Broil 5 inches from the heat for 5 minutes, without turning, until richly browned and just cooked. Spoon the sauce on plates, set the salmon on top and serve.