Roasted Salmon and Leeks in Phyllo Packets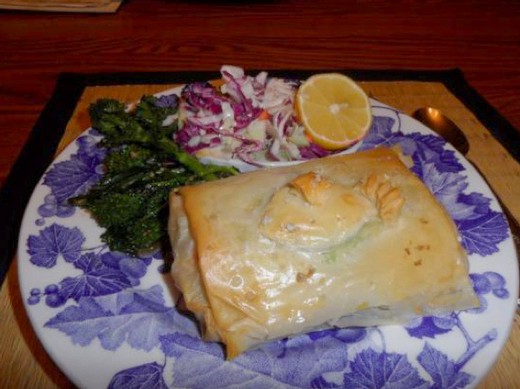 Measurements:
Imperial (US)
Ingredients
1/2 cup (2-inch) julienne-cut leek
1/2 cup (2-inch) julienne-cut carrot
2 tsps minced fresh tarragon
1/2 tsp salt, divided
4 (6-ounce) salmon fillets (about 1 inch thick)
1/8 tsp freshly ground black pepper
12 (18 x 14-inch) sheets frozen phyllo dough, thawed and divided
Cooking spray
2 tsps fresh lemon juice, divided
4 lemon wedges
Directions
Preheat oven to 400°.
Cook leek and carrot in boiling water 1 minute; drain. Combine leek mixture, tarragon, and 1/4 teaspoon salt in a small bowl, tossing gently. Sprinkle salmon evenly with remaining 1/4 teaspoon salt and pepper.
Place 1 phyllo sheet on a large cutting board or work surface (cover the remaining dough to prevent drying); lightly coat with cooking spray. Repeat layers twice, ending with phyllo. Gently press phyllo layers together. Lightly coat top phyllo sheet with cooking spray. Arrange 1/4 cup leek mixture along center of 1 short edge of phyllo, leaving a 4-inch border; top with 1 fillet. Drizzle with 1/2 teaspoon juice. Fold long edges of phyllo over fish.
Starting at short edge with 4-inch border, roll up jelly-roll fashion. Place wrapped fish, seam side down, on a baking sheet coated with cooking spray. Lightly coat wrapped fish with cooking spray. Repeat procedure with remaining phyllo, cooking spray, leek mixture, salmon, and juice.
Bake at 400° for 15 minutes or until lightly browned, and let stand 5 minutes before serving. Serve with lemon wedges.