Mushroom, Butternut Squash and Gruyere Tart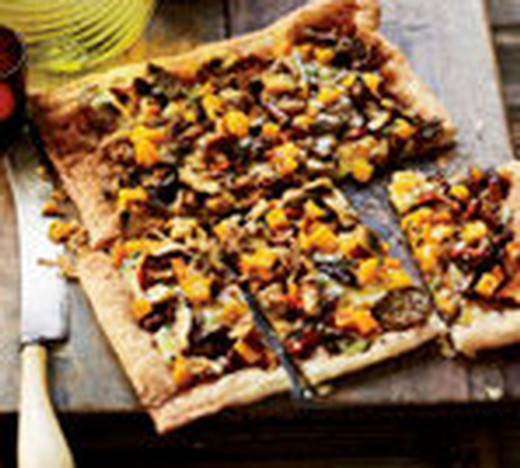 Recipe Date:
August 28, 2011
Measurements:
Imperial (US)
Ingredients
1 1/2 lbs butternut squash (peeled, seeded and cut to 1/2" pieces)
1/4 cup extra-virgin olive oil
2 tbsps unsalted butter
1 shallot (thinly sliced)
1 lb assorted mushrooms (trimmed and cut into 1-inch pieces)
1/4 tsp freshly grated nutmeg
all purpose flour for dusting
14 ozs chilled all-butter puff pastry
2 large egg yolks
1/4 cup creme fraiche
1/4 lb Gruyere cheese (shredded)
2 tsps chopped thyme
1 tsp sherry vinegar
Kosher salt and freshly ground pepper
Directions
Preheat the oven to 375°. Spread the squash on a baking sheet and toss with 2 tablespoons of the oil. Season with salt and pepper. Bake for 25 minutes, until just tender. Transfer to a bowl. Increase the temperature to 400°.
Meanwhile, in a skillet, melt the butter in the remaining 2 tablespoons of oil. Add the shallot and cook over moderate heat, stirring, until softened. Add the mushrooms, cover and cook, stirring, until tender, about 7 minutes. Season with salt and pepper and remove from the heat. Toss with the vinegar and nutmeg and add to the squash.
Line a baking sheet with parchment. On a floured work surface, roll the puff pastry out to 12 1/2 by 14 1/2 inches. Using a knife, trim the pastry to 12 by 14 inches. Transfer to the baking sheet and prick the pastry with a fork all over except for a 1/2-inch border. Bake the pastry for 20 minutes, until golden; pierce with a fork if it puffs during baking. Let cool.
Stir the egg yolks, crème fraîche, Gruyère, thyme, 1/2 teaspoon of salt and 1/4 teaspoon of pepper into the mushrooms and squash. Spread the mixture on the pastry inside the border. Bake for 15 minutes, until the cheese is melted. Cut into squares and serve.