Maple-Glazed Chicken Breasts with Mustard Jus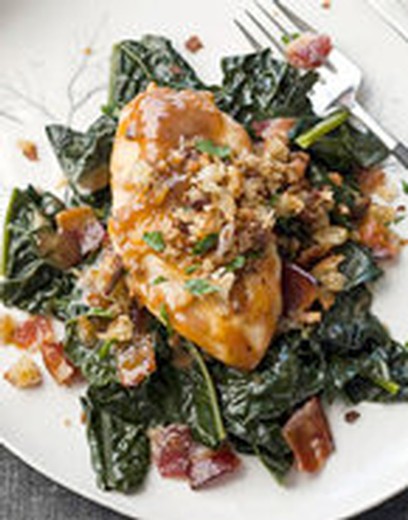 Recipe Date:
October 25, 2013
Measurements:
Imperial (US)
Ingredients
1 tbsp unsalted butter
1 cup fresh bread crumbs
1 tbsp chopped parsley
1 tbsp extra-virgin olive oil
6 ozs boneless chicken breast halves, with skin x 4
2 tbsps pure maple syrup
1 tbsp sherry vinegar
1/2 cup chicken stock
2 tbsps Dijon mustard
Directions
Preheat the oven to 450°. In a large ovenproof skillet, melt the butter. Stir in the bread crumbs and cook over moderate heat until golden. Stir in the parsley and season with salt and pepper. Transfer to a plate and let cool. Wipe out the skillet.
Add the olive oil to the skillet and heat until shimmering. Season the chicken with salt and pepper and add it to the skillet, skin side down. Cook over moderately high heat until the skin is browned, 3 minutes. Flip the chicken and roast in the oven for 7 minutes, until just cooked through.
Return the skillet to the burner. Add the syrup and vinegar; bring to a boil. Turn the chicken skin side down and cook until richly glazed, about 30 seconds; transfer to plates skin side up. Add the stock to the skillet and boil until reduced by one-third, scraping up any browned bits from the bottom. Stir in the mustard and season with salt and pepper. Spoon the sauce over the chicken. Top with the bread crumbs and serve.