Broccoli Soup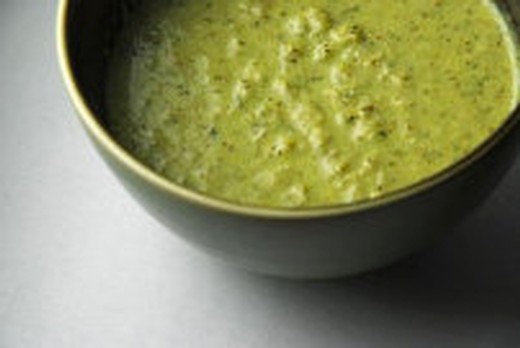 Recipe Date:
November 7, 2008
Measurements:
Imperial (US)
Ingredients
4 large bunches of broccoli, chopped
6 tbsps butter
3/4 cup all-purpose flour
1 large onion, chopped
1 tbsp salt
1/2 tbsp freshly ground black pepper
4 quarts chicken or vegetable stock
1 pint half and half
Directions
Clean and chop broccoli. In a very large pot, bring the stock to a boil and add broccoli. Cook over high heat until broccoli softens, approximately 10 minutes. Remove broccoli from stock and set aside. Keep stock in pot for later step.
In a separate pot, sauté onions in butter until softened. Add salt and pepper. Remove pot from heat and add flour slowly with a whisk. Add 2 c. stock to facilitate the mix. Cook mixture for 10 minutes. Remove from heat.
Add mixture to all but 2 cups of the broccoli in a blender or food processor. Add puree to remaining broth in first pot. Cook for 10 minutes. Add half and half and cook for 10 more minutes. Add 2 cups of reserved cooked broccoli at end, no additional cooking time required.