Reviews: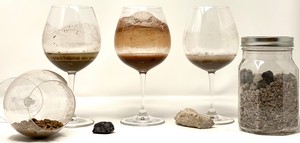 BC & RC, NC: We thoroughly enjoyed our wine sensory experience with you on Saturday, the 15th. You were a most gracious, friendly, patient hostess, and we certainly learned a lot, including how much we don't know! It was fun to try our hand at identifying so many different scents, and I think something must have registered, because the other night, as we were sniffing our glasses, I remarked that I could smell black licorice. Ah, ha! We also enjoyed tasting the W.H. Smith wines, which were new to us. We will look forward to drinking the bronze and purple cabs that we brought home with us. We love using the new cutter we bought after watching how slick it worked for you. Thanks again for a fun time!
SN, Austin, TX: Wow, that was difficult! But lots of fun! My wife and I and another couple did the Wine Sensory Experience together and had a blast! T'Anne puts on a great class and even though we were not able to identify most of the smells we all learned some new things about wine tasting and wine making. It is unbelievably frustrating to so clearly recognize a smell but to not be able to identify it! T'Anne has a ton of knowledge having grown up in a wine making family and we really enjoyed the class and talking to her. The class is held in the W.H. Smith tasting room and included a tasting of their wines afterwards - all very good. Highly recommended.
JL, San Francisco, CA: My friend suggested that we take this Wine Sensory Experience Class since we did the same things in wine country so often and this was something to accentuate our usual wine-tastings. This class was fantastic on so many levels: - This sensory class introduced us to all the many notes that make up a great wine. We got to smell 36 different types of fruits, herbs, spices etc. that can be identified in red and white wines through the entire wine process. The owner/ teacher was very friendly, warm and was helpful and not snobbish at all. I'd highly recommend this class to anyone who's remotely interested in wines and especially if you live in the Bay Area and come up to wine country often. The class starts at 10a and lasts 2 hours and it's a great experience before starting your day wine-tasting at various vineyards. It'll help you think about your tastings so much more.

MI, San Josa, CA: I'm not a wine drinker at all, but I stopped here while in Calistoga last weekend. The owner is super friendly and chatty. The layout of the place is pretty cool and there is also some great art on the wall. She taught us about the wine we were drinking and made suggestions even though I hardly ever drink wine. I'd recommend this place for anyone in the area. Oh and because her customer service was so good I even bought a bottle of wine.

WL, San Jose, CA: Our second time to this tasting room. The first time last year we couldn't do the class because our schedule but we met T'Anne and tasted the wines from her parents winery. The wines were awesome, great Pinot Noirs and she knew a lot. Very friendly, upbeat and fun. We just came back to do the Wine Sensory Experience and it was a blast. Nothing like we had ever experienced and even though we consider ourselves pretty intermediate wine drinkers, our friends were totally not but we all had a great time and everyone got a lot out of the class. If you want to have a fun time learning about wine and tasting without taking an extensive course at UC Davis or spend $600 on a class at the Culinary Institute this class will probably teach you just as much if not more and it's fun. Highly recommend it. Thanks T'Anne - see you next year!

JSS, Walnut Creek, CA: My husband and I come to the Napa Valley every year and this was the first time we have ever done anything besides a regular tasting. What a fun way to spend a morning and start out the rest of our weekend. We felt we got so much more out of the rest of our tasting room visits knowing all we learned in this class. Great wines!

MJH, Tucson, AZ: We took this class to change things up a bit on our 5th visit to the Napa Valley. The class was amazing! We learned how to identify all the things you read in tasting notes like caramel, clove, herbs, spices and more. There were about 25 different smells as well as a barrel toasting comparison, chocolate tasting, bottle age characteristics and more. The owner/teacher was very friendly, warm and she knew more than anyone we had ever met behind the tasting bar before. She also wasn't snobby at all and made us feel very comfortable. I highly recommend this class to anyone if you are beginner or advanced it will help you think about your tastings so much more.

SC, Dallas, TX: Thank you T'Anne for a great time. We weren't sure what to expect from the class but we certainly got more than we expected.

MBF, Colorado Springs, CO: The Wine Sensory Experience was a great way to learn more about wine. It made the rest of our trip so much better and we felt like we knew what we were talking about. I didn't think that it would make such a big difference we were just looking for something different to do on our trip. We were really surprised that after the class we were able to pick up smells in the wines which before we were never able to do. The wines were also excellent.

CB, CA: I went here with a group last weekend and had a great time. We were initially looking to wine taste while staying in Calistoga but since no one wanted to drive we did this instead. I wasn't sure what to expect but it turned out to be very cool. As the name suggests, it's less a tasting and more a sensory class. The owner runs it and she was really nice and completely unpretentious. There were also yummy snacks, and a chocolate and cheese tasting component. When the wine came out towards the end it was good and the pours were generous. A fun experience!